The town of
Barrington
was incorporated in 1863, accompanied by an explosion of new construction that spanned decades and architectural styles. Perhaps that's why Barrington homes for sale offer so much variety. The town boomed as wealthy Chicagoans sought a rural retreat from the hustle and bustle of the Windy City, drawn by its lush green spaces and small-town charm.
From the 1860s through the 1940s, Barrington real estate ran the gamut from Victorian, Prairie School, Neoclassical, Farmhouse, and Queen Anne styles. Even with this wide range of architectural choices, there is still an air of consistency in Barrington's historic area due to the fact that most structures were built of wood and set back from the street by about the same distance. In fact, Barrington's historic district, which is on the National Register of Historic Places, holds one of the highest concentrations of wood-frame homes in Illinois.
Most Barrington homes for sale also have historic significance since they represent changing trends in the American architectural landscape. Barrington is unique in both the number and variety of architectural gems and the appealing aesthetic of these mixed styles.
As the popular suburb continued to grow, so did the architectural landscape, and wide-porched bungalows and open concept mid-century ranches emerged. When Chicago professionals sought a suburban oasis, luxury estate homes and modernist wonders were built in Barrington and nearby Barrington Hills.
If variety is the spice of life, Barrington real estate has something for virtually any taste. Here's a sampling of five popular architectural styles represented in Barrington and the surrounding area.
Sears Catalog Homes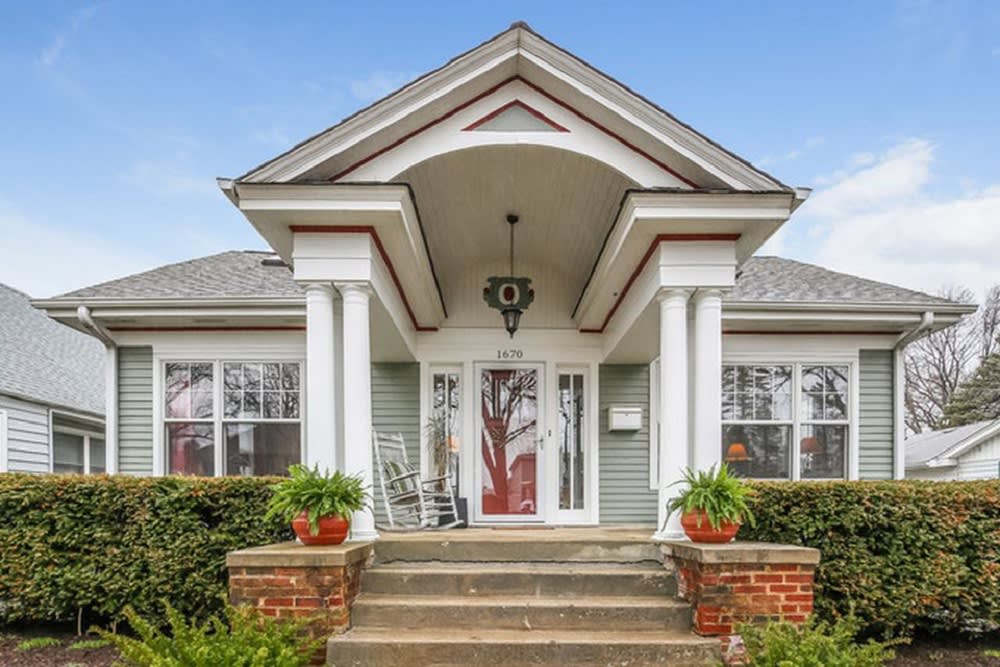 Image courtesy of Sears Homes of Chicagoland
Beginning in the 1920s, Sears sold homes for a few thousand dollars each. These pre-assembled, mail-order homes have proven that their quality and charm stand the test of time. Throughout Sears' tenure as a home provider, they offered 370 different home models. Because there were so many models, and because many models closely resembled popular styles that were then modified to be produced in kit form, there's not an obvious way to tell if a home is a Sears kit home. A quick way is to know when the home was built; Sears catalog homes were sold between 1908 and 1940. Also, upon closer inspection, the columns around the front porch of many models were arranged in a unique pattern, the original hardware was often Sears brand, and any exposed wood in basements or attic would have a manufacturing stamp. Of course, your real estate agent will likely be able to tell you if the home is a Sears catalog original without you having to go scouring for serial numbers.
Neoclassical
Neoclassical
architecture marked a shift from its more ornate predecessors while still retaining the clean lines of traditional Greek Revival influences. The style's simplicity and focus on geometric shapes as decorative elements set it apart dramatically from the nature-inspired motifs common in Rococo design. There are several excellent examples of this architecture in commercial and residential Barrington real estate.
Barrington White House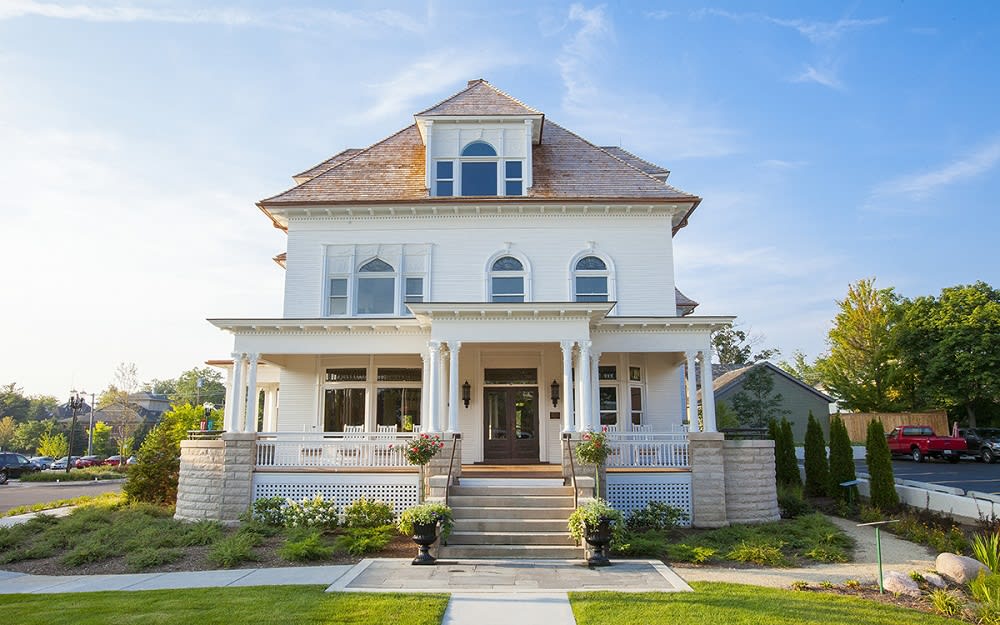 Built in 1898 for banker John Robertson and his wife, Julia, this glorious former residence was painstakingly restored to its original glory and now serves as a cultural and community center for residents of Barrington. Art exhibits, musical performances, community events, meetings, and more are hosted within its walls.
The elegant
Barrington White House
features ornate columns and a welcoming front porch. Its stunning interior woodwork, wainscotting, pocket doors, and oak trim have been retained through the home's various iterations over time — as a single-family home, makeshift hospital, residential facility, and office.
Prairie School
Developed in the late 19th century, the
Prairie School
style is uniquely American, noted for wide horizontal lines, hipped rooflines, deep eaves, and, most importantly, artistic elements that integrate the building with the natural world. Associated with the Arts and Crafts movement and made famous by renowned architect Frank Lloyd Wright, Prairie School design embraced handcrafting and unique detailing, often inspired by nature. Nearby Chicago has some excellent examples of this style, as do many of the homes in Barrington.
Catlow Theater
In Barrington, the 1927
Catlow Theater's
interior spaces were created by Alfonso Iannelli, a well-known Prairie School designer and protegee of Frank Lloyd Wright. The ornately detailed interior of the theater includes excellent examples of Iannelli's stencils, sculptures, ceiling ornamentation, wall murals, iron sconces, and intricate wood carving in the organ lofts.
Farmhouse
While the term "farmhouse" is technically
not an architectural style
, it effectively describes the look of many Barrington homes for sale. Identified by big porches and family-friendly interiors, farmhouse-style homes have endured the test of time.

From early homesteads to modern-day estates, the rolling hills of Barrington have attracted wealthy farmers, bankers, and barons of industry looking for a pastoral retreat. Barrington boasts many examples of these historic estates, but one of the oldest is located at:
1001 Plum Tree Road, Barrington Hills
One of the
first homes in Barrington Hills
, this picturesque homestead is one of the only homes in the area listed on the Illinois State Registry of Historic Homes. The sprawling farm home boasts well-preserved woodwork and floors and is set among lovely old-growth trees with a horse trail adjacent to the property. The scenic home and grounds are often used as the site for local history events.
Discover more architectural gems among Barrington real estate